(MENAFN – Daily News Egypt) "All of the featured paintings are works of my favourite artists; but, I was always keen on adding an artistic twist." Al Saady explained "my inner teacher wants my designs to tell stories and also to encourage people to explore artists and art that might not be familiar to them." Joan Mirò's Obra Grafica is one of the precious paintings, which the artist added to her collection in order to introduce iconic pieces of art that cannot be considered mainstream. Meanwhile, the collection also includes reinterpretations of Amedeo Modigliani's Young Seated Woman with a Blue Dress, Gustav Klimt's Portrait of Adele Bloch-Bauer, and Vincent Van Gogh's Vase with Five Sunflowers, among others.According to the designer, her father's experience as a fine artist has directly influenced her early years as well as her career choices. "I grew up reading art books and regularly visiting art galleries. When I travel, I always check fine art museums first," shared Al Saady with enthusiasm.
With that said, she did not attempt to paint before this collection. "This was my first venture to paint so I had to read and learn the technique of each artist and practice on my own." Al Saady added "first, I received a detailed criticism from those around me, which was extremely useful. You never want someone to tell you that you are doing great all the time; instead, you want honesty." Despite her lack of experience in terms of painting, the designer was resolute to personally work on each and every bag. Her need to keep her bags unique and give her clients the luxury of donning a true piece of art, made her keen on maintaining a personal touch to each of her bags.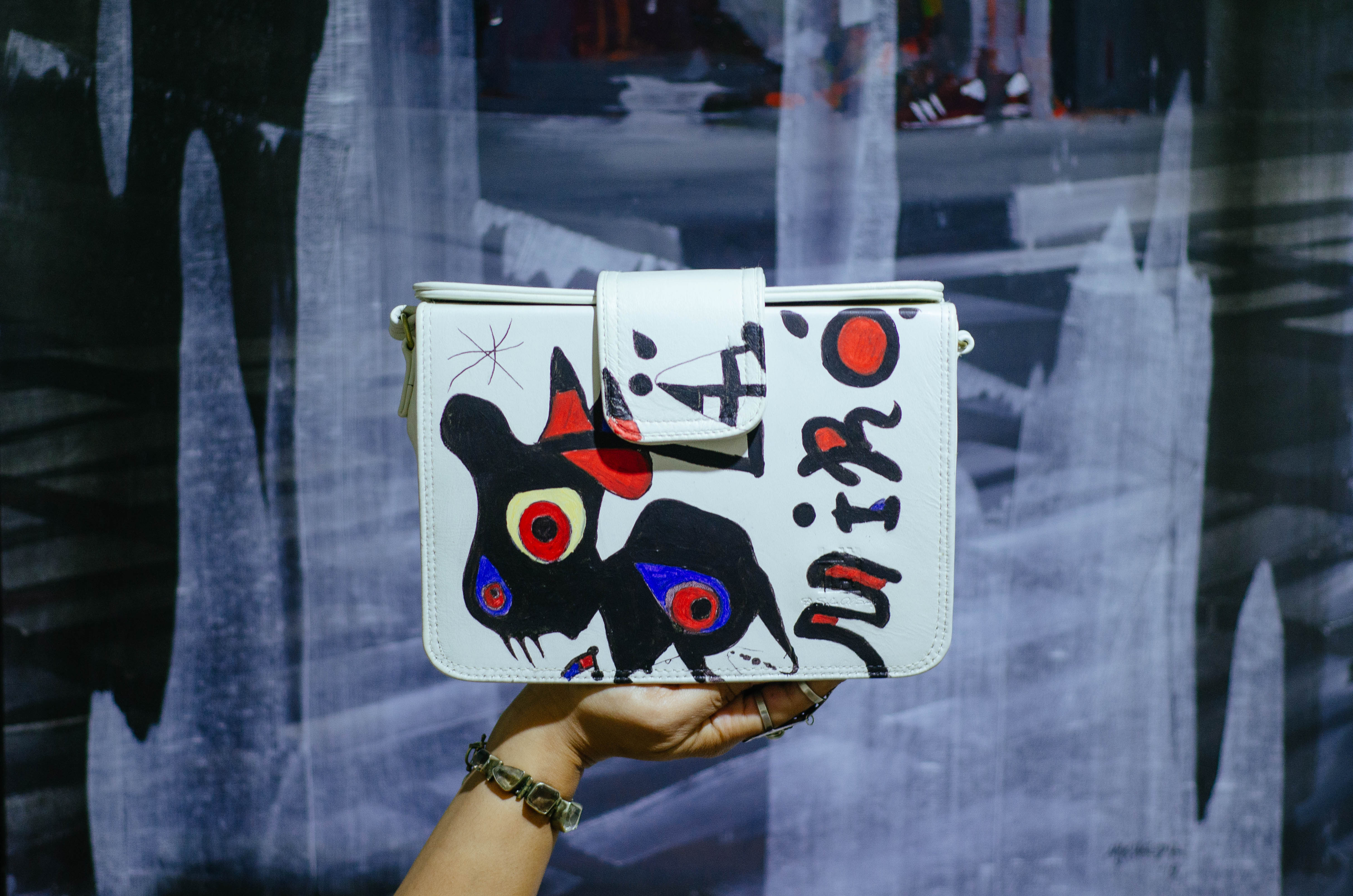 "Last year I made a small bag for my best friend with Klimt's The Kiss. I was experimenting and the result was very satisfying. She is a jewellery designer, who studied fine art and pays attention to detail. She loved the bag and loved the fact that she was wearing a piece of art. That is exactly what I am trying to achieve with this collection," said the designer with an admiring smile. With that said, the designer was assisted by a team of artisans, who worked on details such leatherwork and stitching at a specialised workshop while Al Saady was immersed in the painting process.
"Hassan, who is in charge of the workshop that dyes the leather, did an amazing job because we worked individually on each dye colour to achieve the perfect shades. Meanwhile, we also had to treat the leather to implement accurate depictions of the selected paintings. It required intense effort and unwavering dedication," explained Al Saady. Over the course of 18 months, the designer went from developing the concept to research and finally execution. While she knew beforehand which painters to resurrect for this collection, the exact paintings were selected based on the designs.
Aside from mastering the art of painting and finding the right colour pallet, Al Saady had to overcome yet another obstacle. Due to a medical condition that affects the nerves of her hands, she was required to take long breaks and divide her hours of work intricately. Accordingly, this collection was not only an artistic experimentation and learning experience, it was also a chance for Al Saady to test her own capabilities.The one of a kind collection consists of 20 genuine leather bags, which the designer has been on uploading in a series of posts on her social media accounts. Addressing those who seek uniqueness and fostering a true taste for art, the designer does not favour mass production. Therefore, she only creates limited pieces of each design.
According to Al Saady, since the collection's launch, she has been receiving positive feedback. "Clients who have already purchased bags from the collection are extremely satisfied and keep sending me pictures of themselves wearing the bags around Egypt," said Al Saady excitedly.As for her future plans, Al Saady is already focused on her upcoming collection. While she is still working on the theme, she is already occupied with expanding her workshop and creating her own paintings.
MENAFN0306201901530000ID1098604681